13 Restaurateurs Share Their Top Restaurant Marketing Tips
You might serve the best food in town and offer an excellent ambience but without a solid marketing strategy, sustaining in a competitive market certainly gets difficult.
This is why restaurant marketing is crucial. It helps you create brand awareness, reach new diners, build loyalty and grow your business.
We asked our partners to share their top restaurant marketing tips. Here's what they had to say.
1. Understand your customers
"Know your demographic and be consistent with your engagement," says Katherine Duffy, General Manager at The Three Crowns.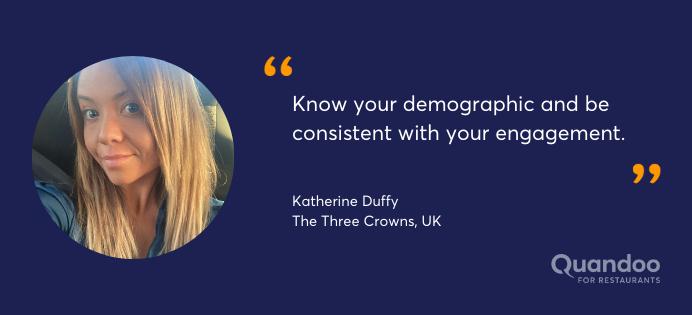 The success of any business depends on the understanding of its customer. When you get an accurate picture of your target market, you will be able to position your brand effectively, make informed marketing decisions and create targeted communication that will appeal to them.
"You need to decide who you're talking to and be true to your style in everything you do," adds Tomi Jalkanen, Marketing Manager at Ravintola Fat Lizard.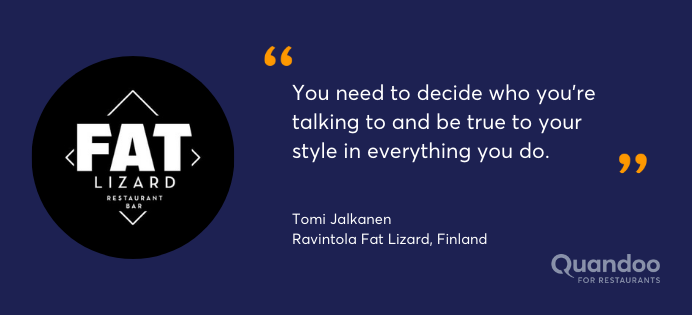 Here are some factors to consider while determining your restaurant's target customer:
Age
Gender
Profession
Income group
Customer type (singles, couples, families, tourists, etc.)
Hobbies and interests
Understanding your customers also lays a strong foundation for unifying marketing communications. "Ensure your communication is relevant, coherent, and resonates with your target audience," says Giulio Paternò, Marketing & Communication Director at Healthy Color.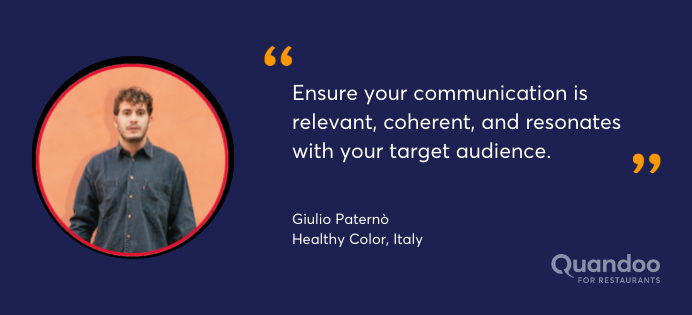 2. Choose the right marketing channels
From social media and email to paid advertising and SEO — there are several ways to reach consumers.
Marc Hanke, Manager at Bar Raval advises, "Invest in few but the right marketing channels."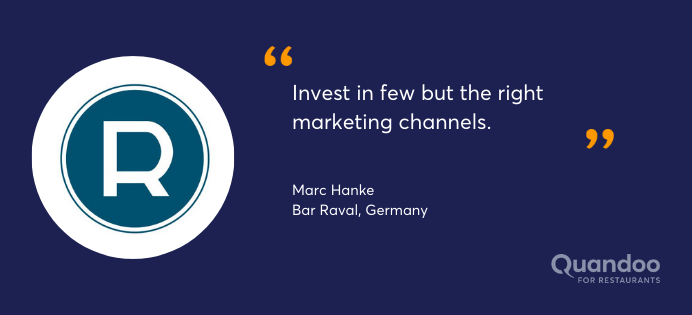 Instead of being present on every channel, focus on the ones that help you reach your audience and drive maximum impact. However, it's also important to have a fluid marketing strategy that adapts to the changing times.
"Leverage digital solutions, think ahead and plan for uncertain times. Midway through the pandemic, with delivery partners charging high commission rates and only delivering within a 3-5 mile radius, it was very difficult for restaurants to reach customers outside the delivery zones.
Adapting to change, we diverted and invested our marketing budget on social media and Google ads to direct our customers to our ordering channel almost immediately.
With this, we were able to continuously grow our database and implement loyalty programs to encourage repeat orders and satisfy customers despite the COVID-19 restrictions," recalls Kelly Pereira, Marketing & Branding Manager at Beirut Grill.


3. Create engaging content
Did you know that 86% of millennials try a new restaurant after seeing food-related content online?
"Content for a restaurant business comes in 2 main forms: the information that is provided and the actual service, drinks and food that is received when the customer comes in.
When you create good content, customers will recognise and frequent your restaurant," says Theodore, Co-owner of Cherki.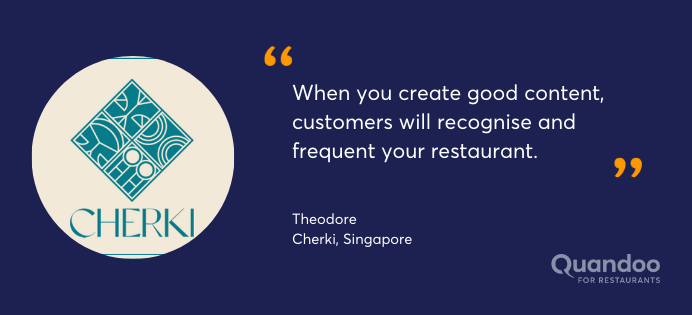 The rise of mobile has transformed the way people search and make dining decisions. To stay top of mind, you need to create content that captures attention, engages people and brings in new customers.
Speaking of engaging content, visuals play a huge role in restaurant marketing. "Compile a comprehensive photo bank," suggests Sabrina Klimscheffskij, Concept Manager at Santa Fé.
"Pictures of food always work well. It is not always necessary to hire a professional photographer. You can take photos yourself using your phone. Make sure the lighting is adequate and the food is presented beautifully," she adds.



4. Build loyalty
Do you know what Starbucks, Chipotle, Dunkin' Donuts and McDonald's have in common? Strong loyalty programs.
"Focus on building loyalty. Not only are loyal guests more likely to support you in times of crisis, but they will also visit more frequently, exhibit higher spending and are less likely to cancel or 'no-show' on you.
A strong loyalty program that rewards loyalty and re-engages patrons effortlessly goes a long way," says Gerhard Lanyi, Director of Brotzeit Group.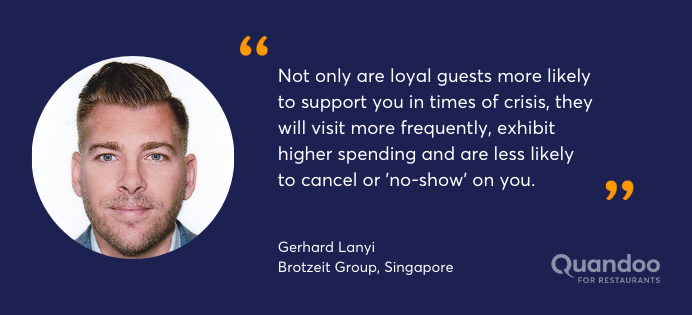 Loyalty is centered around building trust and creating long-lasting relationships with your guests.
According to Salvatore Scarfò, Marketing Director at Fra Diavolo, empathy drives customer connection. "Create an empathetic relationship with your customers," he says.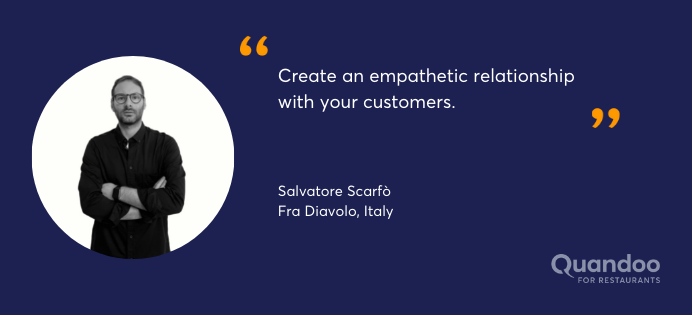 Capture valuable customer data and use it to deliver a personalised experience that keeps them coming back.
"Maintain a clean, updated customer database and launch a loyalty rewards program. Retaining existing customers is as important to us as winning new ones," says Massimo Fraioli, Owner of Giardini di Sorrento.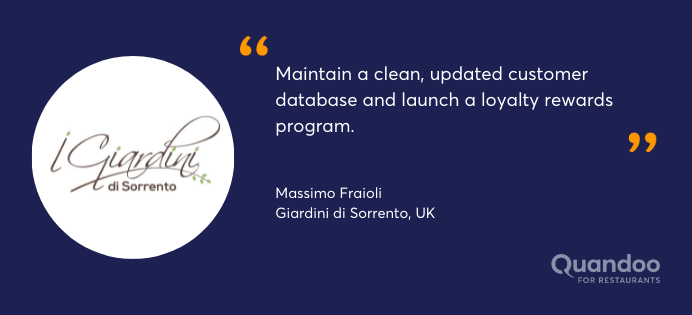 5. Keep innovating
With several restaurants vying for attention, if there's one thing that can set yours apart from the rest, it's innovation.
"Come out with products that are interactive and visual.
Today's consumers are more likely to post about the goings of their daily lives through social media. Products that involve theatrics, or are aesthetic are more likely to land you a spot on your customer's social media profiles," advises Roger, Director of Hopscotch.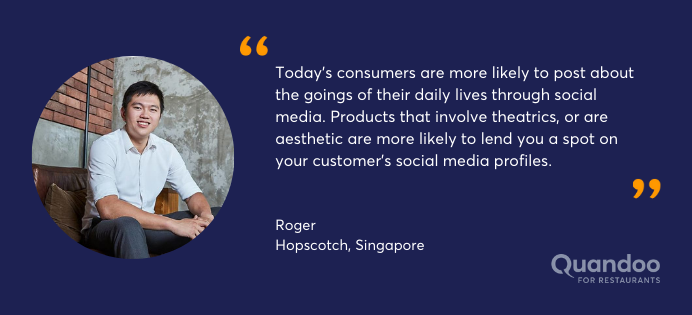 It's interesting to note that 53% of millennials rated 'new experience' as an important feature when choosing a place to eat.
According to Sanjay Rekhi, Owner of Adda, restaurants that constantly excel in marketing stay one step ahead of their competition.
He adds, "Lead, not follow & do things differently! Having Instagram-worthy and quirky plating, along with a strong online presence is a sure-win and a definite way to capture interest online. Word of mouth, videos, and pictures talk. More and more people are using social media to communicate, share stories and experiences via these platforms."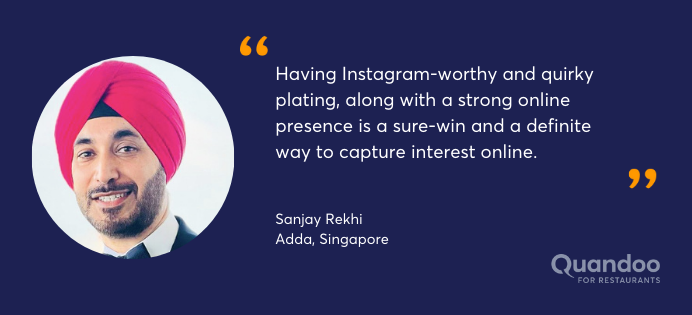 It's safe to say that a huge part of restaurant marketing involves creating dining experiences that generate buzz and make people talk about your restaurant.
Dennis Ilies, Manager at Puzzle Bar agrees as he says, "Make sure guests are happy so they come back and recommend your restaurant to their friends."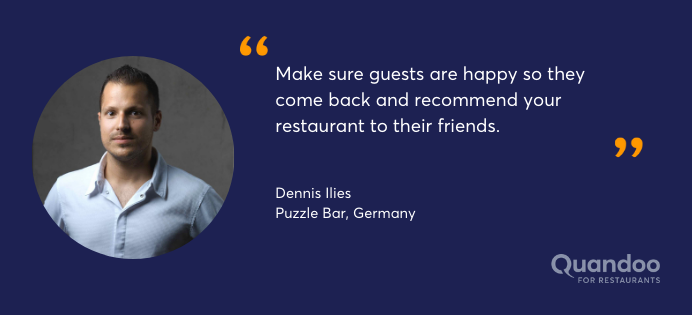 Conclusion
Investing in the right restaurant marketing tactics will help you strengthen your brand, amplify your online presence and attract new customers. Be consistent and focus your marketing efforts on building a brand that lasts.
-
Editorial note: Some responses have been translated from the original language.