6 Low-Cost Restaurant Marketing Ideas for 2023
You've heard it all — about how important marketing is for your restaurant and how you can't afford to put it on the back-burner.
But what do you do when you don't have the budget for marketing?
As a small restaurant owner with limited resources, you're probably stuck between wanting to market your restaurant and not knowing how to.
What if we told you that marketing doesn't have to be expensive? There are plenty of effective marketing strategies that can be implemented on a shoestring budget.
Let's take a look at six low-cost restaurant marketing ideas that will help you increase brand awareness without burning a hole in your pocket.
1. Optimise your business profile on Google
If there's one marketing tool you must use to advertise your restaurant and attract new customers, it's your business profile on Google. The best part? It's completely free.
According to a Google study, 4 in 5 consumers use search engines to find local information.
When customers search for keywords related to your restaurant, your listing needs to show up in the first few search results, capture their attention and ultimately drive traffic to your restaurant.
While the first step is to create a business profile, it doesn't stop there. It's equally important to continually optimise it to boost online visibility.
Here's how you can optimise your business profile on Google:
Add your restaurant description
Select the appropriate restaurant attributes
Make sure the operating hours are accurate
Add a reservation link
Upload photos of your restaurant
Respond to customer reviews
Add an FAQ section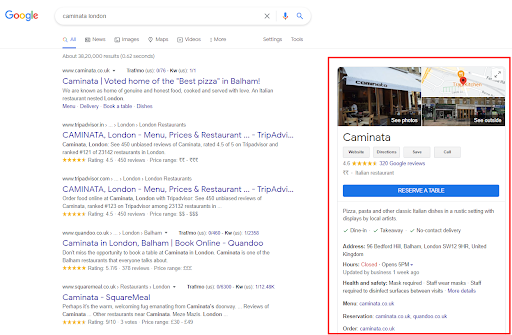 2. Sign up for an online reservation tool
What does an online reservation tool have to do with restaurant marketing, you wonder? A lot.
Especially if we're talking about a tool that helps you manage reservations and attract new customers. Quandoo for Restaurants is one such affordable online reservation tool.
Quandoo for Restaurants is an easy-to-use reservation tool that goes beyond reservation management. It's a tool that amplifies your online presence and focuses on filling your restaurant seats.
When you sign up for Quandoo for Restaurants, your restaurant becomes directly bookable on Google Maps and you get to enjoy direct reservations at no extra cost. This also leads to an increase in conversion rates because customers are able to reserve a table without having to leave Google.
That's not all, as your restaurant also gets access to Quandoo's ever-growing user base and extensive partner network which means millions of potential new customers get to view and make reservations at your restaurant.
3. Be active on Instagram
Did you know that 30% of people would avoid a restaurant if its Instagram presence was weak?
Ouch.
While this is true, you must know that it doesn't take much to improve your Instagram game.
What's important is being consistent and having a content calendar in place. This will add more structure to your Instagram marketing efforts, helping you build an engaged community.
Here are some Instagram post ideas for your restaurant:
Post enticing pictures of your restaurant interiors and popular dishes
Host contests and giveaways
Give your audience a peek into what goes on behind the scenes of your restaurant
Share stories of your staff and team members
Use Instagram Live and interact with your audience in real-time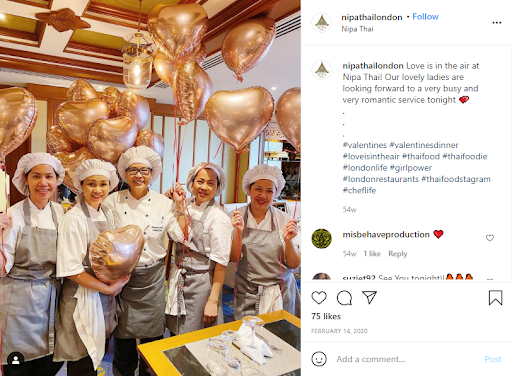 The good news is that you don't have to be (or hire) a designer to create engaging graphics. You can create stunning visuals using tools such as Canva, Adobe Spark and Pablo.
4. Encourage user-generated content
User-generated content (UGC) is content that has been voluntarily created by users. It can be in the form of reviews, testimonials or social media posts.
It's interesting to note that 92% of consumers say they trust UGC above all other forms of advertising. This type of content is effective because it denotes authenticity, adds credibility and helps instil more trust in your brand.
And guess what? It doesn't cost a penny.
You can choose to re-share your customers' Instagram posts that feature your restaurant or create Instagram Stories with positive customer reviews. This serves as third-party validation and improves brand reputation in the process.
Here's an example of Pivaz Restaurant re-sharing an Instagram post of one of its customers in its restaurant.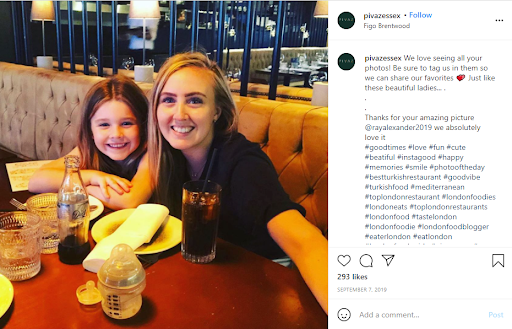 5. Launch a referral program
"Nothing influences people more than a recommendation from a trusted friend. A trusted referral is the holy grail of advertising," said Mark Zuckerberg and how true is that.
Your loyal customers are your greatest assets. While it's great to have customers coming back to your restaurant, it's even better when they refer your restaurant to their family and friends.
It's interesting to note that the lifetime value of referred customers is 16% higher than non-referred customers. So, why not formalise this process by launching a referral program?
Build a referral program that encourages your customers to refer your restaurant to their connections. Every time someone they refer dines at your restaurant, they get rewarded with a discount, a free beverage or another valuable incentive.
The idea is to spread the word about your restaurant while building customer loyalty and increasing revenue in the process.
6. Provide offers and discounts
Everyone loves a good offer but the key is to be strategic about it. You don't want to be a restaurant that's always running some offer because that ultimately ends up hurting your sales and brand.
Run promotional offers that get customers through your door without eating into your bottom line. Here are some creative ideas you can consider for your restaurant:
Provide targeted offers around holidays or events (e.g. Valentine's Day, Christmas, etc.)
Offer combo or bundle deals
Reward new customers with a special offer or discount
Offer discounts during a specific time in the day (e.g. 'Happy Hour' between 4-7pm on weekdays)
Prepare a 'chef's special' menu and offer it at a fixed price
Here's an example of Zzetta's Valentine's Day offer.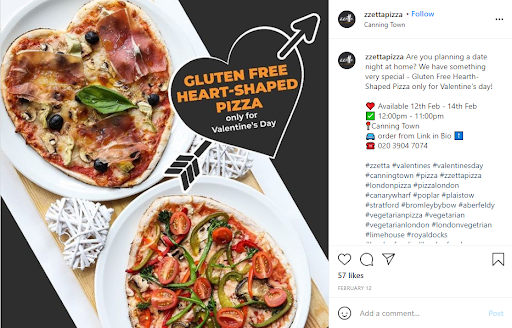 Try these low-cost restaurant marketing ideas
If you thought marketing is only for large restaurant chains, now you know it's not. There are many low-cost marketing strategies you can implement to get people talking about your restaurant, attract customers and improve your bottom line.
Quandoo for Restaurants
Restaurant Marketing