6 Restaurant Marketing Ideas to Reach New Diners
While retaining old customers is critical, one of the key drivers of business growth is attracting new ones.
Regardless of how established your restaurant is, if you're not exploring different avenues to reach new diners, you're missing out on a huge opportunity.
According to a Google study, almost 60% of millennials start their search just an hour before they visit a restaurant. The question is: what are you doing to stand out from your competitors and capture those potential customers?
Let's take a look at six restaurant marketing ideas you can implement to attract new diners and grow your restaurant.
1. Drive direct reservations from Google
Picture this: a tourist searches for 'American restaurants near me' on Google and comes across yours. Instead of having to call your restaurant or visit a third-party website, they're able to make a reservation directly within Google Search or Maps.
It's a win-win situation — they save time and you get confirmed reservations.
That's the power of convenience and you can offer your customers that by adding a 'Reserve a Table' button to your Google My Business profile.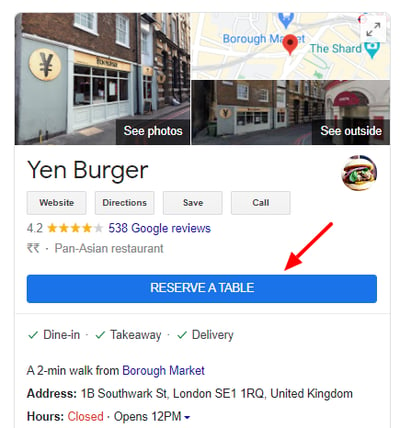 Doing this eliminates barriers and makes it easier for customers to make reservations leading to an increase in conversions.
What's more, as per a Reuters article, 75% of bookings from Reserve with Google come from new customers.
The good news is that Quandoo is an official Reserve with Google partner.
This means that when you sign up for our affordable online reservation tool, Quandoo for Restaurants, we will get your restaurant automatically listed on Google Search and Maps at no additional cost. So, you can enjoy reservations via Google Maps free of charge.
2. Share appealing food photos on Instagram
86% of millennials try a new restaurant after seeing food-related content online. And a huge part of this 'content' comprises food photos on Instagram.
In fact, many restaurants have gone to the extent of revisiting their menu to create meals that look good in photos.
This shows that as a restaurant, it's imperative to be active on Instagram and share photos of your dishes and restaurant interiors.
Investing in good food photography is sure to help your restaurant generate interest, create buzz, and attract diners because let's face it: today, people click before they eat.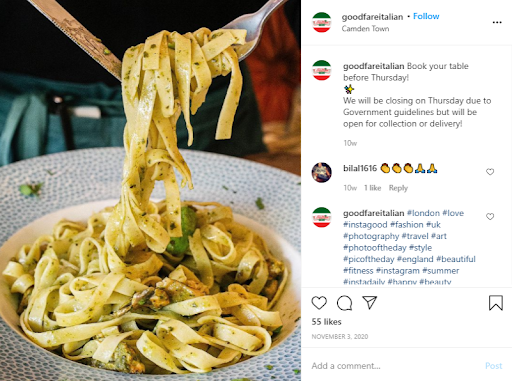 Source
3. Encourage customers to leave reviews
You might say you serve the best meatballs in town but like it or not, it matters most when your customers say it too.
87% of UK diners agree that online reviews influence their dining decisions, making collecting customer reviews an integral part of your restaurant marketing strategy.
Reading a positive review instils confidence in potential customers and makes them trust your restaurant more, helping you attract new diners.
Here are a few ways to encourage customers to leave reviews:
Claim your profile on Google My Business and third-party websites such as Yelp, TripAdvisor and Quandoo
Place QR codes on tables for customers to scan and be directed to a review site
Send customers an email or SMS reminding them to leave a review (make sure you comply with local laws and have legal permission to do so)
Showcase customer reviews on your social media platforms
Respond to reviews across platforms in a timely manner
Here's an example of an Instagram post by Leon Restaurants featuring a positive customer review.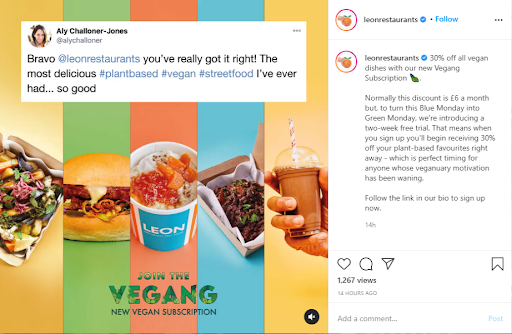 Source
4. Invite food bloggers
Speaking of third-party validation, food bloggers are another source people look to for recommendations and advice.
Engage with local food bloggers and journalists and invite them to your restaurant. Prepare a tasting menu with your popular dishes, or invite them for the launch of a new seasonal menu. The idea is to give them a taste of what you have to offer so they can blog about their experience.
By tapping into the blogger's or journalist's engaged community, you're able to increase exposure and reach potential customers.
While this is an effective restaurant marketing idea, it's important to find the right food bloggers and journalists to invite. Make sure you take time to read their blog posts and social media posts to understand the kind of audience they are catering to.
The key is to engage relevant food bloggers and journalists that speak to a similar target audience as yours.
In the example below, food blogger The Graphic Foodie reviews the restaurant, Le Nantais Bistro.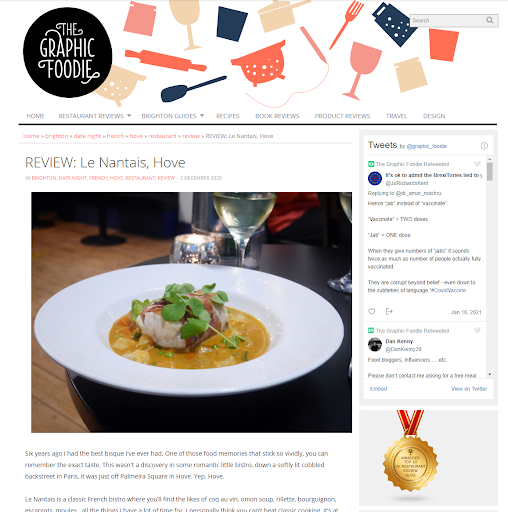 5. Explore local partnership options
One of the ways to generate local buzz is to explore partnerships with other organisations in the community. This is a good way to expand reach, drive trust, and build brand awareness.
Partnerships can take the form of event sponsorships, cross-promotion, or even joint discounts.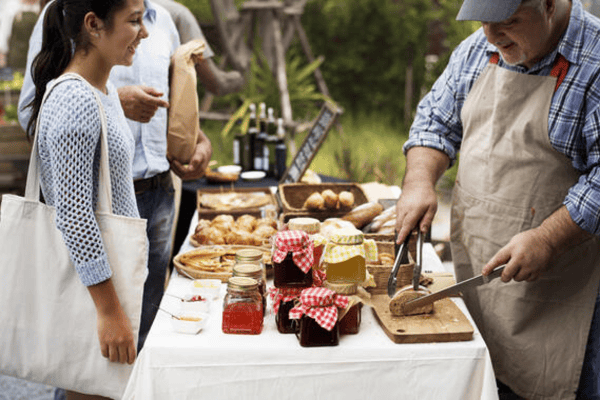 As a restaurant, you can look to partner with:
Schools and colleges
Non-profit organisations
Corporate organisations
Local groups and communities
Supermarkets
The key to a mutual benefit partnership is to identify a common purpose and capitalise on each other's strengths. Here are some partnership ideas you can explore:
Curate special menus or exclusive deals for corporate offices
Sponsor local events
Partner with supermarkets and offer joint discounts to each other's customers
Offer meal coupons to theatre-goers
Host a fundraising event for a school or NGO
6. Get listed on Quandoo
In today's interconnected world, it's not a wise idea for restaurants to work in silos. You should look at joining third-party platforms to expand your online presence and reach new customers.
Quandoo is one such leading platform across Europe and APAC.
With over 300 million seated diners, ours is a marketplace that's scaling fast. Not just that, you can sign up for Quandoo for Restaurants and get your restaurant in front of our ever-growing user base and extensive partner network.
With increased online visibility and more awareness, getting listed on Quandoo will certainly help you reach potential new customers.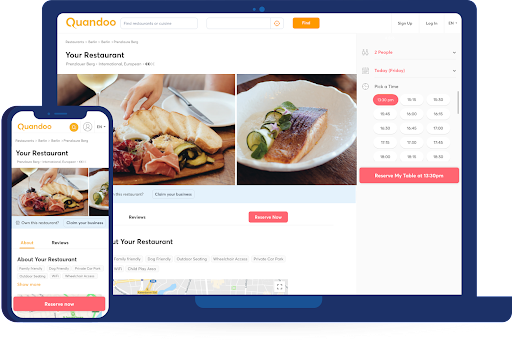 Implement these restaurant marketing ideas today
Maintaining a steady flow of new customers has always been a challenge for restaurants but these six effective marketing ideas are sure to help you reach new diners and grow your business.
To help you with this, we'd like to introduce you to our online reservation system, Quandoo for Restaurants.
From becoming directly bookable on the Google network to getting access to Quandoo's growing network — Quandoo for Restaurants is a simple and affordable way to attract new diners.
Quandoo for Restaurants
Restaurant Marketing