Restaurant Instagram Marketing: 11 Content Ideas to Engage Audiences
Your restaurant is on Instagram but you only post when you feel like it or when you have something 'new' to say. Your feed is filled with promotional offers and your posts receive minimal engagement.
Are you that boring restaurant brand on Instagram? Don't be.
Restaurant Instagram marketing is all about displaying your brand personality while finding creative ways to attract new customers and engage existing ones.
We agree, coming up with new content ideas to post about is no easy task. But if you want to use Instagram to grow your restaurant, you need to be consistent and stay top of mind.
Wondering where to begin? Here are 11 creative Instagram post ideas to spruce up your feed and engage your audience.
1. Showcase your dishes
This one's a no-brainer. You're a restaurant brand and you must showcase your dishes to entice customers. Whether it's announcing a new dish or highlighting a popular one, nothing tempts hungry customers more than a well-shot picture of an appetising dish.
While hiring a food photographer is the next obvious step, not every restaurant has the budget to do that.
The good news is that you don't need a professional camera to take good food pictures. A smartphone camera and the right technique can also help you take professional-looking, high-quality photos for Instagram.
Here are some best practices to consider while taking pictures of your food:
Use natural light
Avoid using flash
Remove background clutter
Experiment with different angles such as flat lays, side shots, and close-ups
Be mindful of the setting
Use an editing app such as

Canva

or

Adobe Spark

to retouch the image
Quick tip: place a white board near the object you're photographing so that it reflects the light back and avoids casting heavy shadows.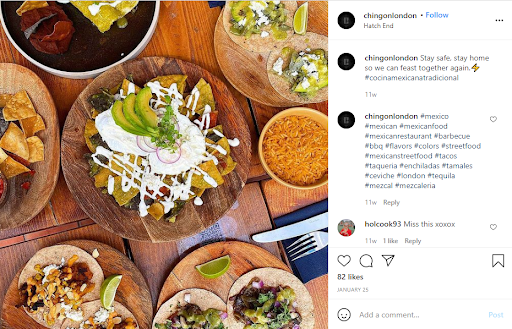 2. Post pictures of your restaurant interiors
Your food and restaurant interiors make up the dining experience.
In addition to posting pictures of your dishes, post pictures of your restaurant interiors. This gives people a sense of your ambience and plays a crucial role in attracting new customers.
If your restaurant has a scenic view to offer, you should share that with your Instagram community too.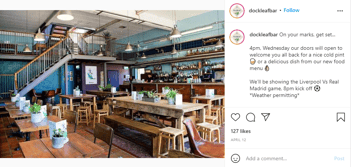 3. Share cooking tutorials
Did you know that how-to tutorials are the most popular form of Instagram video content?
How about getting your head chef to share quick cooking tutorials, tips and hacks with your followers? It can be something as simple as mastering knife skills, marinating fish or cupcake frosting.
You can create snackable one-minute videos or longer IGTV ones to deliver useful cooking tutorials that are sure to keep people engaged and invested in what you have to offer.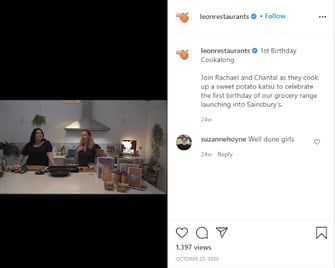 4. Encourage direct reservations
Just as having a business profile on Google lets you receive direct reservations, the same applies to Instagram.
You can add a 'Reserve' button on your Instagram profile and use it to boost direct reservations. All you need to do is tie-up with a third-party reservation platform. For instance, Quandoo has partnered with Instagram to facilitate in-app reservations.
So, if you're a Quandoo partner, you can add the 'Reserve' button and when people click on it, they will be directed to the Quandoo reservation page, enabling them to make a reservation without leaving Instagram.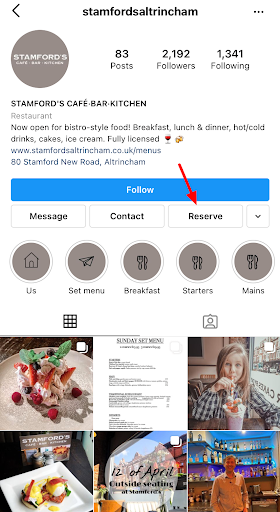 Create Instagram posts or Stories to throw light on this feature and encourage people to make direct reservations from Instagram. It's quick, easy and convenient.
5. Share stories of your staff
There was a time when curated Instagram feeds were all the rage but not anymore. Today, people appreciate authenticity. They are more likely to connect with brands that are 'human' and relatable.
One of the best ways to humanise your restaurant brand is to share stories and pictures of the people behind your restaurant — it can be the owner, managers, chefs or servers. This will help you build deeper connections with your audience and boost loyalty.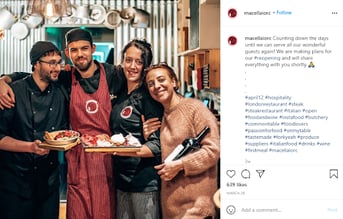 6. Go behind the scenes
Another restaurant Instagram marketing tactic that humanises brands is posting behind-the-scenes content on Instagram. People are always intrigued to see what goes into making your restaurant what it is.
You can create Instagram Stories, Boomerangs or Reels to give people a glimpse into your kitchen, the hygiene measures you're taking or even to present an interesting cooking hack.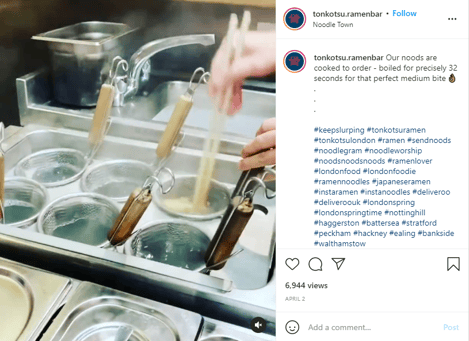 7. Run contests and giveaways
Who doesn't love a fun contest on Instagram?
Hosting contests and giveaways is a great way to increase engagement and grow your following. It gets people excited and is easy to implement.
What's important is keeping the contest simple and clearly communicating the rules to your community. Make sure it's easy to participate in and doesn't go on for too long as people might lose interest.
People take part in contests for the prize so pick one that's enticing and attracts maximum participation. You can consider prize ideas such as a free meal, gift cards, free drinks or a gift hamper among others.
Quick tip: Coin a hashtag for the contest so that it's easier to track results, amplify reach and increase your chances of going viral.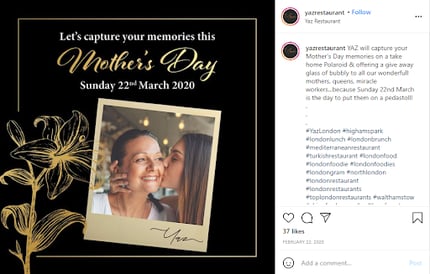 8. Conduct an 'Ask Me Anything' session
Ask Me Anything (AMA) is a fun session that involves answering questions asked by your Instagram followers.
You can choose to go live and do it in real-time. Alternatively, you can also use the 'Questions' sticker on Instagram Stories – prompting people to send in their questions – and then post your replies.
It's a good idea to host this session with an expert such as your head chef and have him or her answer any questions your community might have.
9. Share positive customer reviews
87% of UK diners agree that online reviews influence their dining decisions.
How about using your Instagram profile to amplify those customer reviews and get as many people to see them as possible?
Curate reviews from review websites and third-party platforms such as Google My Business, TripAdvisor and Quandoo among others. You can create a template to save time. That way, every time you want to share a positive review, you'll just have to place it in the template.
Sharing the love you get is also a way to show your audience that you're listening to them and that you appreciate their compliments.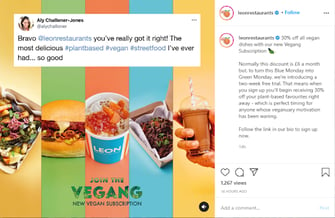 10. Repost user-generated content
User-generated content (UGC) is content that has been voluntarily created by users. People take to Instagram to share their experiences with brands while tagging them. You're likely to find these posts under the 'Tagged' section of your profile.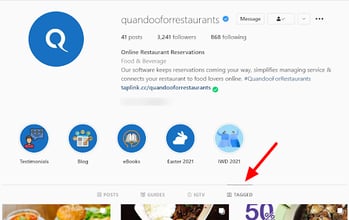 When you share such content with your Instagram community, it helps potential customers see how your brand is perceived and adds credibility.
Before you share someone else's post on your platform, make sure you get the user's permission by commenting on their post or sending them a direct message via Instagram.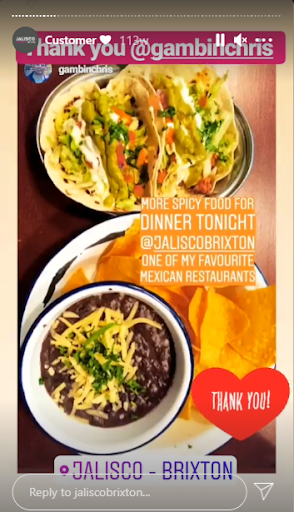 11. Promote restaurant offers and deals
Running a promotion? Post about it on Instagram.
Make sure you mention the offer in the social media graphic as people are more likely to see it than read the caption. Don't limit yourself to static posts. You should also use formats such as Stories and GIFs to capture attention and drive the message home.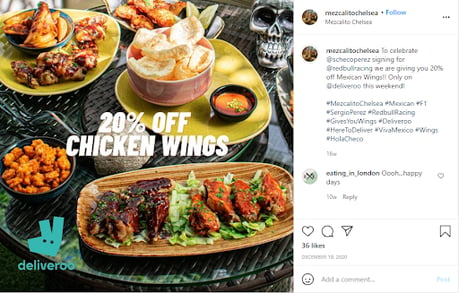 Boost your restaurant's Instagram marketing efforts
Remember: Instagram is not a one-way communication channel. It's essential that you respond to user comments and actively engage with your community.
From posts and Stories to Reels and IGTV — this platform offers a host of features to grow your community and engage with your audience. Create a social media content calendar to plan your posts, stay organised and maintain consistency.
Quandoo for Restaurants
Restaurant Marketing