Capture more bookings with the online booking widget
Capture more bookings with the online booking widget
By embedding the responsive booking widget (reservation calendar) into your restaurant website, browsing diners can conveniently book a table in just a few clicks.
Easy-to-embed — no coding skills required
Provide 24/7 real-time table availability
Increase direct bookings by up to 70%
Multi-language capability presents information in the user's preferred language (8 languages available)
Powerful partnerships with leading brands such as Google, OpenRice, TripAdvisor and more
Accept reservations 24/7
Accept reservations 24/7
Tired of relying on your opening hours to accept reservation requests? With a booking widget on your own website, diners can conveniently reserve a table without contacting your venue in person.
Accept bookings round the clock, independently of your opening hours
Maximise your table capacity by allowing guests to see table-availability in real-time
The booking widget automatically recognises return guests, who can use the auto-fill feature to reserve a table in less than 10 seconds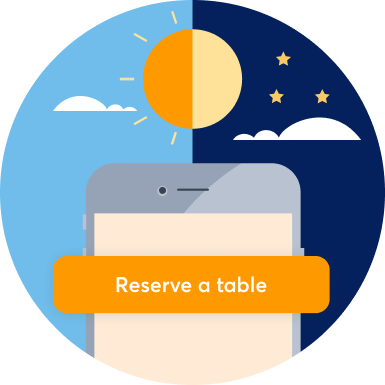 Customise colours to fit your website
Customise colours to fit your website
The responsive booking widget is colour-customisable so that you can align the widget with your website's look and feel.
Choose between two different background colours, light or dark
Endless colour options available for the widget buttons
Customise the widget colours as as desired to match your restaurant brand for a seamless booking experience
Responsive design across all devices – desktop, mobile and tablet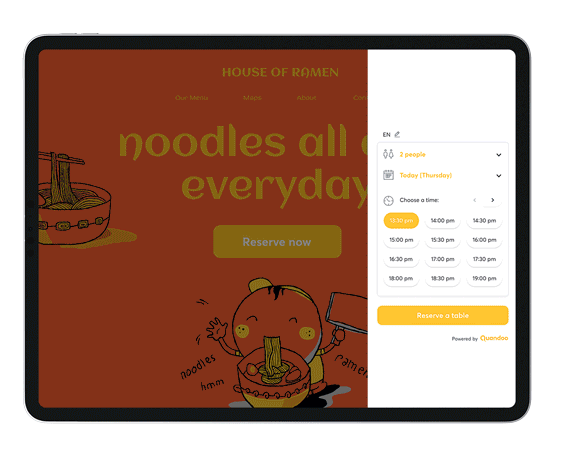 Become bookable through our partner sites
Become bookable through our partner sites
Is your restaurant active on social media? Now you can capture even more reservations with our powerful partner integrations.
Implement a "Book now" button on your social media pages and other partner sites and allow diners to book a table – without leaving your page profile
Benefit from our growing partnership network, including brands such as Facebook, TimeOut and Instagram
Need help with the booking widget?
Are you already a Quandoo partner? Whether you have a question about how to integrate the booking widget into your webpage, or would like to hear more about its functionalities, our support team is here to guide you through the process. Please get in touch with us via the Help Center.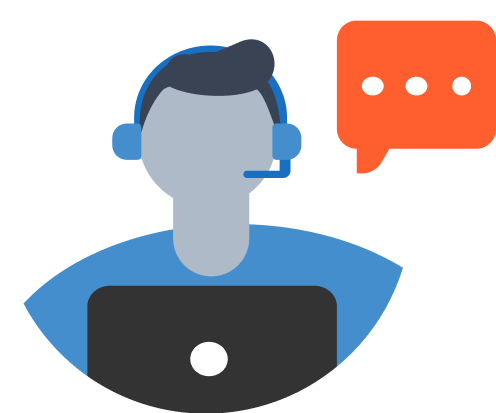 Ready to capture more online restaurant reservations?