For the Love of Food: 8 Valentine's Day Promotion Ideas for Restaurants
For restaurants, Valentine's Day is more than just an occasion to celebrate love — it's a marketing opportunity.
Interestingly, 46% of couples say that going to a restaurant is their ideal way to celebrate Valentine's Day. No wonder it's the second busiest day of the year, giving you the chance to boost brand awareness, attract new diners and increase revenue.
One of the most effective ways to get customers through the door is by running exclusive Valentine's day promotions. It helps market your restaurant and make it the go-to choice for this special occasion.
Here's a look at eight Valentine's Day promotion ideas for restaurants that your diners are sure to love.
1. Introduce limited-edition dishes
Restaurants that offer special menus are one of the top three factors influencing dining decisions on Valentine's Day.
Spruce up your menu with some exclusive, signature dishes that mark this special occasion. Apart from bringing in new customers, it will also help you delight returning guests with fresh, new dishes.
Introducing limited-edition dishes is a great way to innovate and experiment. If any of these dishes are well-received by your guests, it might be a good idea to give them a permanent spot on your menu.
2. Create a prix fixe menu
From what to wear to where to eat, we are expected to make several choices every day. Why not make it easier for your diners to decide what to order by offering an exclusive Valentine's Day prix fixe menu?
A prix fixe menu is a set menu that offers a multi-course meal at a fixed price. You can curate a 3-5 course meal with a mix of popular and new dishes. Think of it as delivering a bespoke Valentine's Day experience from start to finish.
Make sure you don't overwhelm guests with too many options and keep the menu simple. You should also take into account dietary preferences and have alternate options available if needed.
Apart from simplifying decision-making for customers, a prix fixe menu for special occasions helps you prepare ahead of time, manage busy periods and control costs.
3. Offer a complimentary cocktail or dessert
Everyone loves a pleasant surprise. The idea is to offer the unexpected and catch your diners off guard in a memorable way. And what better time to do this than the day of love!
Use this opportunity to surprise your diners with a complimentary cocktail or dessert, in celebration of Valentine's Day.
This 'surprise and delight' tactic works wonders for improving loyalty, brand perception and customer retention. Moreover, there's also a chance that a few of your customers might take to social media to talk about the surprise, helping spread the good word about your restaurant.
4. Provide exclusive discounts on reservations
It's established how busy a day Valentine's Day tends to be. An effective way to navigate and manage it is by encouraging reservations.
Use a restaurant reservation system such as Quandoo for Restaurants to accept and manage reservations with ease. This will help you control the flow of diners, predict wait times, optimise service levels and create a safer dining experience.
You should also consider providing discounts on reservations. This will encourage more people to reserve. Remember to include this communication in your Valentine's Day marketing material such as email newsletters, social media posts and text messages.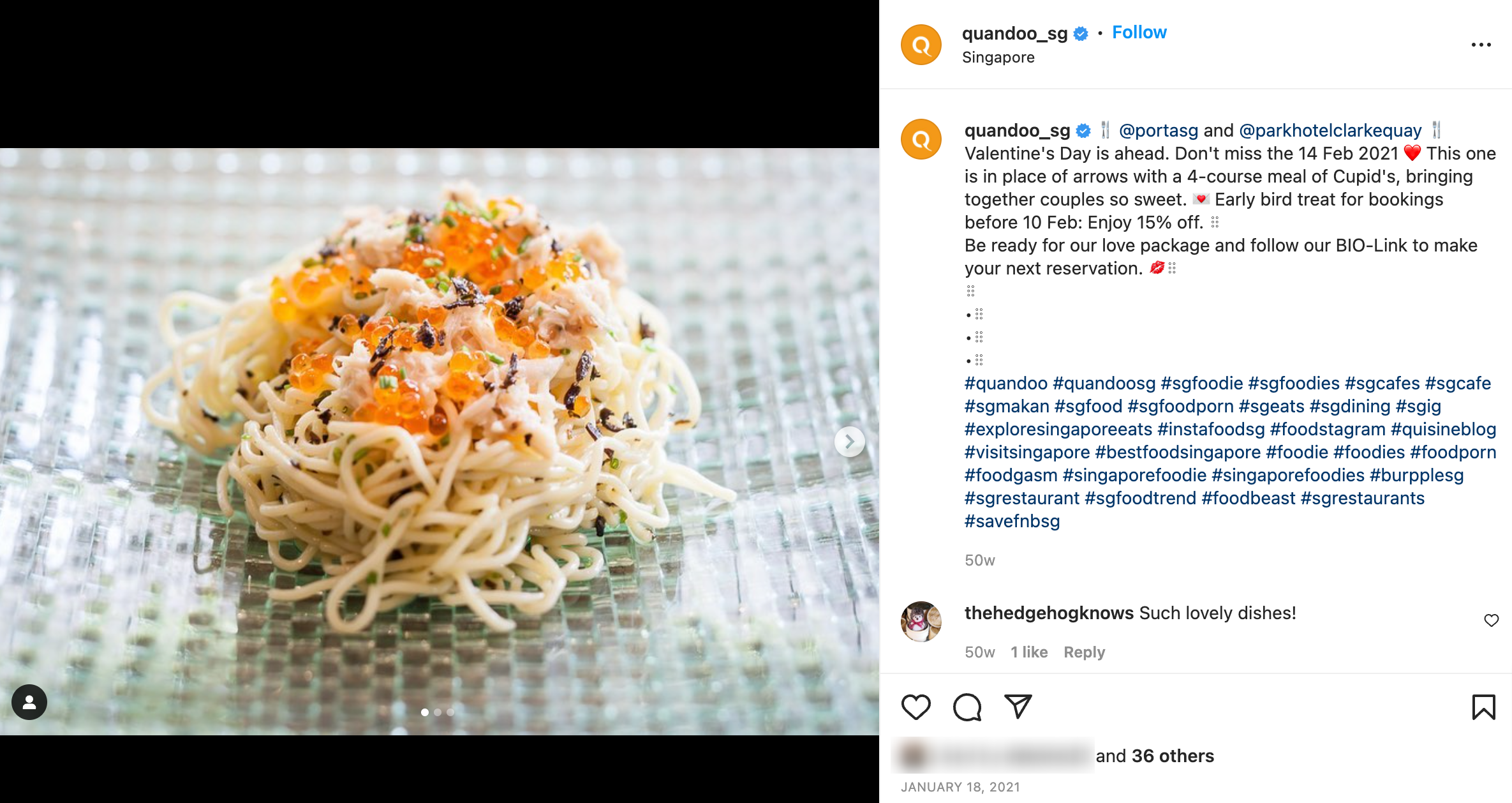 5. Take special requests
From arranging a bouquet and opting for a specific table to preparing a dessert with a message on it, people are bound to have special requests on this day.

Create a memorable dining experience for them by taking requests. Instead of doing this manually, use a reservation system that allows you to take and track special requests. This leaves less room for error and saves you time.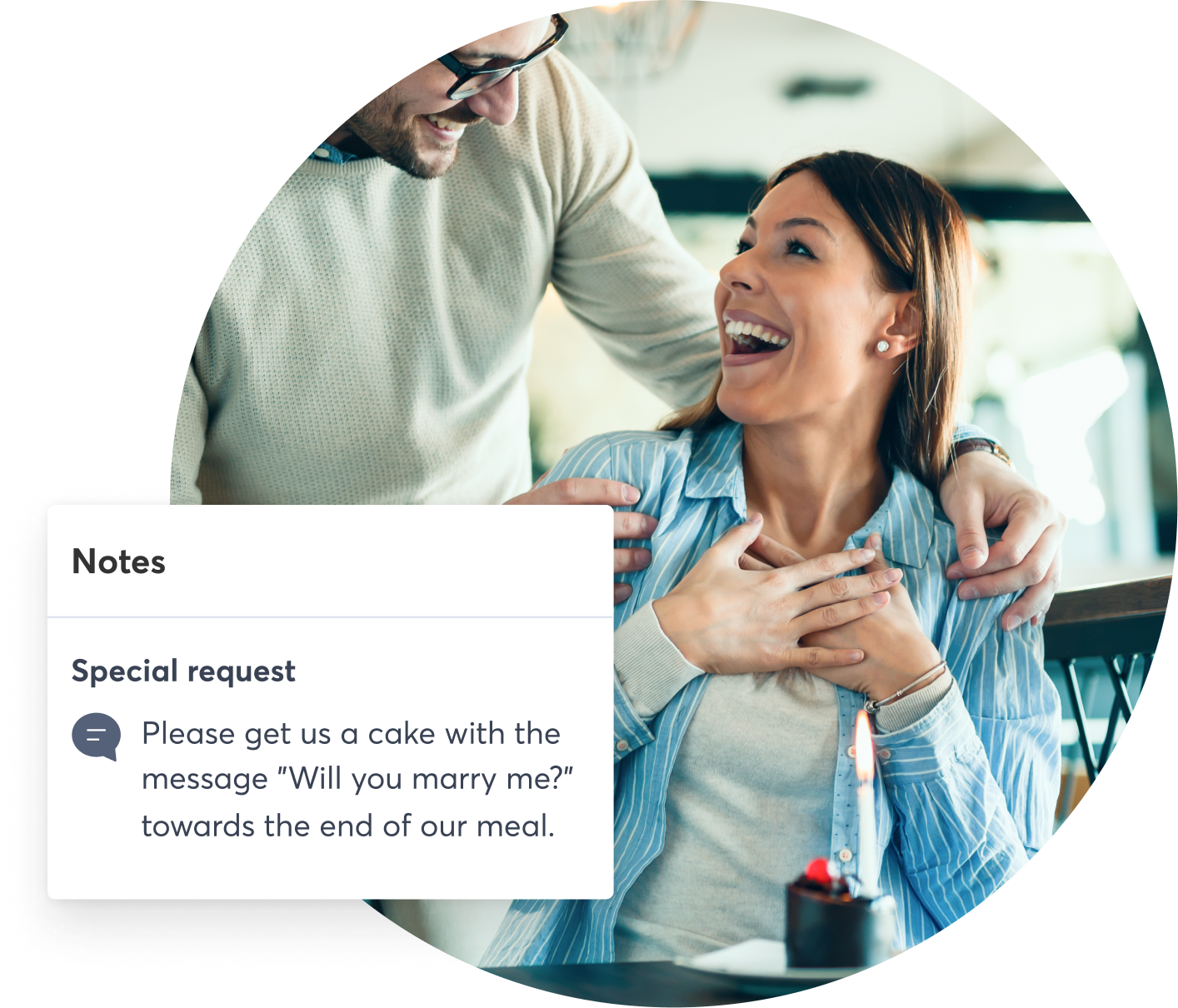 6. Run a contest on social media
Running a contest on Facebook or Instagram is a good way to create brand awareness, increase engagement and attract diners.
It's easy to execute. All you have to do is come up with a simple contest idea and attractive prize. In this case, the prize could be offering a free Valentine's Day meal to the winning couple(s).
Here are some contest ideas for Valentine's Day:
Ask couples to share their favourite memory and tag your restaurant
Get followers to tag the person they want to spend Valentine's Day with in the comments
Ask followers to caption an image and the couple with the wittiest caption wins
Ask people to complete a sentence (eg. "My love for you is like ____")
Make sure the contest is easy to understand and quick to participate in. Regardless of the contest mechanics, coin a brand-specific hashtag and encourage followers to tag your restaurant. This will increase brand visibility and get people talking about your restaurant.
7. Partner with a local business
Another Valentine's Day promotion idea for restaurants is partnering with local businesses. You can partner with a spa, theatre, cab service or local retailer and offer gift vouchers to couples who dine in your restaurant on Valentine's Day.
You can also host a raffle wherein the winning couples get a free foot massage in the spa you've partnered with or discounted tickets to an event.
8. Create photo opportunities
What better way to seal Valentine's Day than with a photo memory.
Create photo opportunities and encourage guests to capture memories in your restaurant on this special day. You can install a pretty Valentine's-themed backdrop at the entrance or even serve picture-worthy cocktails and desserts that get people to click.
In all likelihood, customers will post these pictures on social media and tag your brand, leading to word-of-mouth marketing and increasing brand appeal.
After all, 69% of millennial diners take a photo of their food before eating it.
Try these Valentine's Day promotion ideas for restaurants
Valentine's Day is a crucial day for restaurants and implementing these promotion ideas will help you reach new diners, stay ahead of your competition and increase return on investment.
However, running promotions is just half the battle. Make sure you communicate your Valentine's Day promotions through social media posts, emails, text messages, Google My Business and third-party platforms you're present in.
The idea is to create buzz ahead of the day and drive customers to your restaurant.
Restaurant Marketing
Quandoo for Restaurants