4 Ways to Improve Restaurant Customer Service
"If you have a good experience in a restaurant, you tell 2 people. If you have a bad experience, you tell 10 people."
This famous quote by celebrity chef and author Anthony Bourdain highlights the importance of positive restaurant customer service.
It's interesting to note that a text analysis of over 300,000 online restaurant reviews by ReviewTrackers found the most commonly used keyword to be "service".
While it's your food that gets customers through the door, it's the service you provide that will keep them coming back.
Let's take a look at how you can improve restaurant customer service and build loyalty.
1. Train restaurant staff
Your front-of-house staff is the face of your restaurant. They are the ones who interact with your customers and they need to know the value of good customer service.
From welcoming guests and taking orders to serving food and handling complaints, every step of the journey shapes the guest experience.
Conduct regular training sessions to educate your staff on improving customer service standards. It's a good idea to maintain a handbook that outlines what good customer service means to your restaurant. This comes in handy while onboarding new employees too.
You can also use roleplay to demonstrate common scenarios, helping them acquire practical skills.
2. Take online reservations
The guest experience doesn't begin in the restaurant. It begins before that with the reservation process. A frustrating booking process is bound to reflect badly on the overall experience.
How do you avoid that? Use a restaurant reservation system like Quandoo for Restaurants to accept and manage reservations.
Customers can find your restaurant online and make reservations via the Quandoo portal, booking widget and partner network (includes leading brands such as Google, Instagram and Apple Maps among others).
They get instant confirmation on their reservation and similarly, you're automatically notified every time a booking is made which helps you stay on top of your bookings.
This reduces waiting time and leaves minimal room for error, contributing to a better customer experience.
3. Offer a personalised experience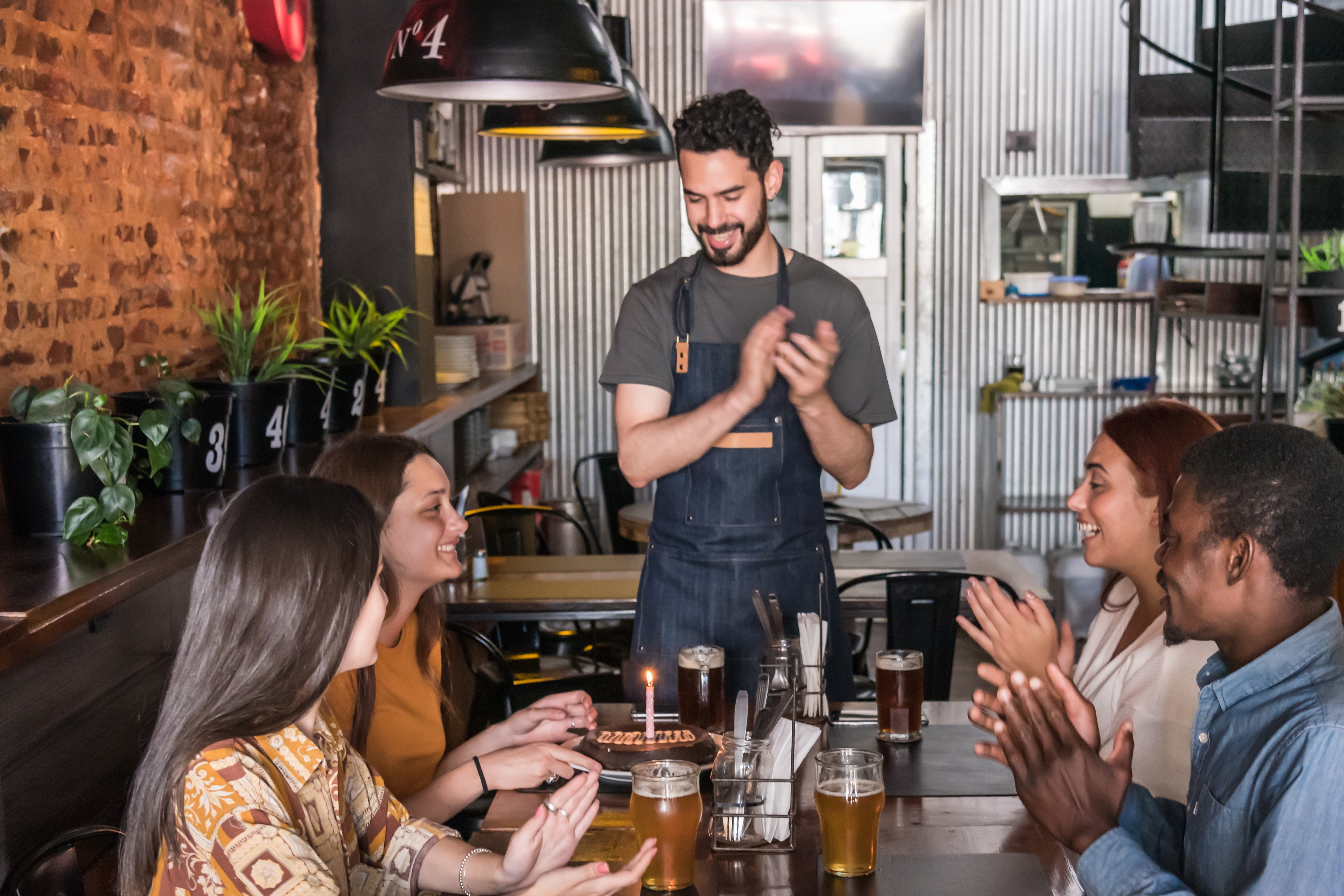 Imagine this: you learn of a guest's birthday and offer a free dessert at the end of their meal. The customer is positively surprised and leaves the restaurant delighted.
This is an example of a personalised customer experience. Not only did you meet their expectations but you surpassed them and created a memorable experience.
According to a study, 80% of consumers are more likely to do business with a company if it offers personalised experiences.
The key to offering such an experience lies in gathering guest data – data that helps you understand your customers, anticipate their needs and tailor experiences.
Here are some other ways to create custom experiences for guests:
Remembering loyal guests

Being aware of food allergies and dietary preferences

Making special occasions memorable (eg. birthdays, anniversaries, etc.)

Taking guest requests and meeting them

Assigning returning guests their preferred table

Sending targeted marketing communication via email or text message
4. Ask for feedback
Customer feedback is essential to improving service. It shows you value your customers and want to actively make improvements.
Encourage guests to share feedback or leave reviews. You can ask them to fill out a feedback form on a tablet immediately after their meal or send them an email or text message with a link to an online review site.
Keep the form short and include precise questions about the food, service and overall experience. The idea is to engage customers and make it easy for them to share feedback.
Here's an example of an email template you can use to ask for reviews.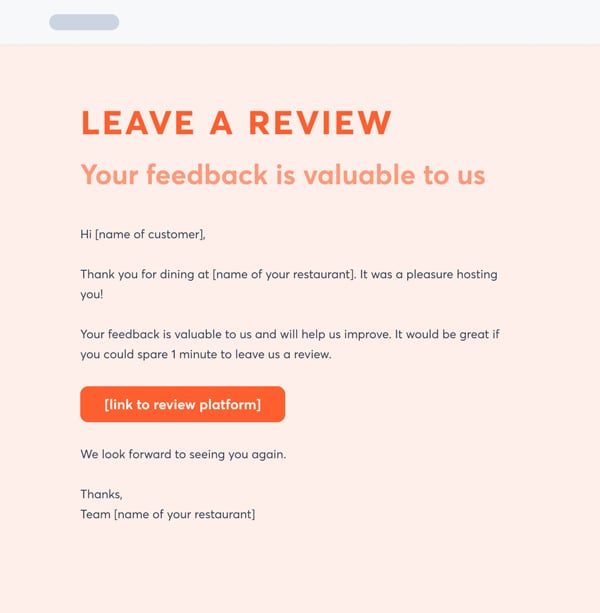 Elevate your restaurant's customer service
Restaurant customer service has a huge role in driving repeat visits, building loyalty and attracting new customers. These four practices will help you elevate your customer service and create an experience that leaves guests satisfied.
Guest Experience
Restaurant Management