Google My Business for Restaurants: How to Optimise Your Business Profile on Google
Imagine being able to advertise your restaurant and attract new customers for free. That's the power of a business profile on Google.
According to a Google study:
4 in 5 consumers use search engines to find local information
50% of consumers who conduct a local search on their smartphone visit a store within a day
What does this mean? To boost local visibility and be considered, one of the first things you should do is create and optimise your restaurant's business profile on Google.
Google My Business for Restaurants
Google My Business is a tool that lets businesses create a profile or listing for free, helping customers find and obtain essential information with ease.
On creating a business profile for your restaurant, it automatically appears:
1. At the top right-hand corner of the Google search results page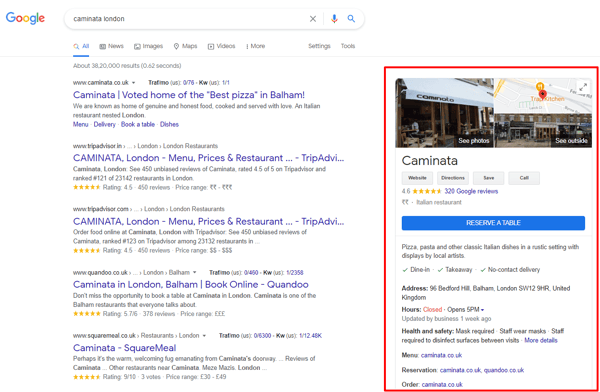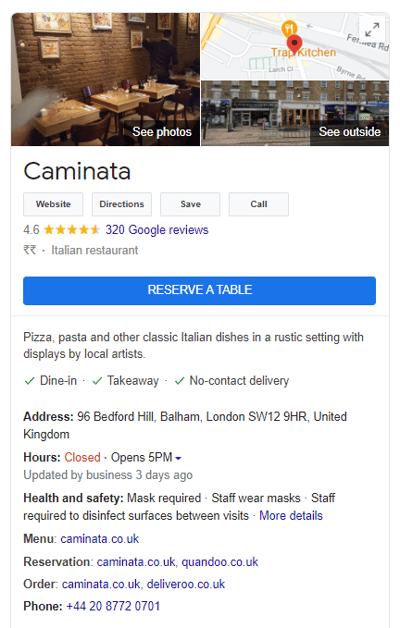 2. Google Maps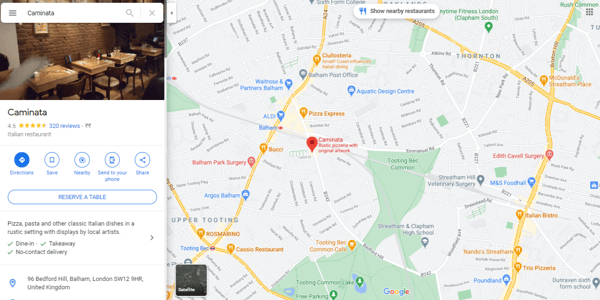 3. Google's Local Pack (the first three business listings that appear when users type keywords related to your restaurant)
Optimise Your Restaurant's Business Profile on Google in 7 Steps
Most restaurants create a business profile, claim their listing and forget about it without realising that there's more to a Google business listing than just creating a profile.
The idea is to use this listing as a local marketing tool — and that takes frequent checks and constant optimisation.
Let's take a look at how you can optimise your restaurant's Business Profile on Google in seven simple steps.
1. Add your restaurant description
Look at this restaurant listing — it tells you nothing about the restaurant apart from the fact that it is a Mexican restaurant.
On the other hand, the example below gives more information about the restaurant, making it easier for users to decide whether they want to dine there.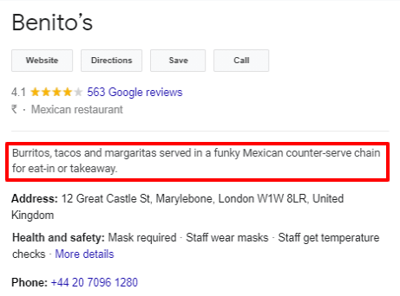 The difference between the two? A succinct description.
Google lets you enter a brief 750-character description of your restaurant. Use this space to highlight what sets your restaurant apart and communicate your core offerings.
Be sure to include useful information that helps the reader learn about your restaurant rather than focusing on promotions or discounts.
It's also advisable to include keywords or phrases that customers would associate your restaurant with.
For example, if you serve Greek cuisine, make sure you include phrases such as "Greek restaurant", "Greek dishes" or "Greek cuisine". That way, when someone searches for the same words, your restaurant is more likely to appear on the first few local search results.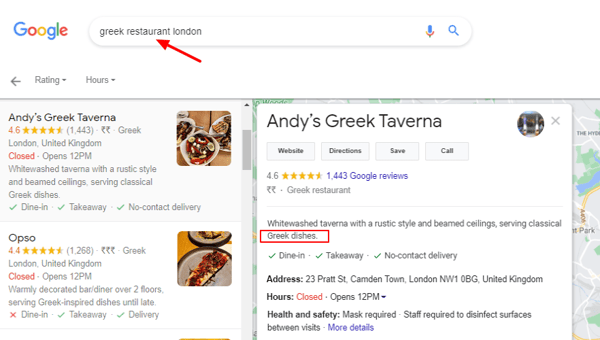 How to do this:
On your Google My Business dashboard, navigate to Info > Add business description.
2. Select the appropriate business attributes
Google My Business attributes are designed to give customers a quick overview of your restaurant.
They can include objective attributes such as 'dine-in', 'takeaway', etc. and subjective attributes such as 'good for kids', 'popular for dinner', etc.
Subjective attributes can't be controlled by you and depend on the reviews of users who have visited your restaurant.
Make sure you enter all the relevant objective business attributes that hold for your restaurant. The idea is to give as much information as possible to drive dining decisions.
Owing to the COVID-19 pandemic, Google has also introduced a new set of health and safety attributes such as:
Appointment required
Mask required
Staff get temperature checks
Staff wear masks
Temperature check required
Remember to add these attributes as well to reassure your customers that you're taking all the necessary safety precautions.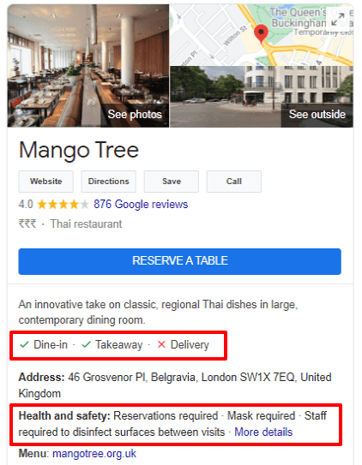 How to do this:
On your Google My Business dashboard, navigate to Info > Add attributes.
3. Ensure the operating hours are accurate
Imagine checking a restaurant's working hours online, going to the restaurant and then realising it's shut. Frustrating, isn't it?
A lot of times restaurants add their operating hours while creating a profile and don't revisit it as time progresses, leading to confusion and misalignment.
If your restaurant's operating hours differ on weekends or public holidays, use the 'Special Hours' feature to communicate the change.
Google also gives you the option to set business hour breaks. So if your restaurant is shut between 3pm to 7pm every day, make sure it reflects on your listing too.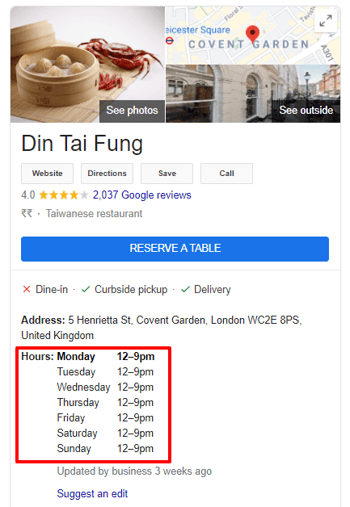 How to do this:
On your Google My Business dashboard, navigate to Info > Add hours.
4.

Add a reservation link
One of the most useful Google features made available to restaurants is Reserve with Google. This feature allows customers to make table reservations directly from Google Search.
Adding a reservation link on your business profile makes it easier for users to book a table with a click of a button, leading to a potential increase in reservations and revenue.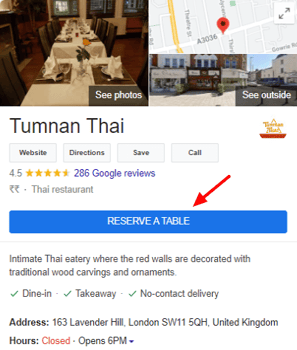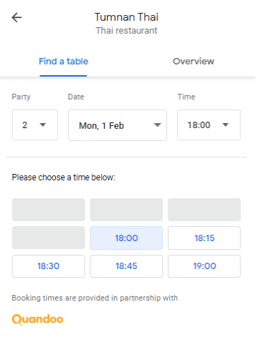 Quandoo is an official Reserve with Google partner. When you sign up for our reservation tool, Quandoo for Restaurants, we will get your restaurant listed on Google Search and Maps for free.
So, instead of driving potential customers to your website or a third-party website to make reservations, you allow them to reserve a table directly from Google, leading to an increase in conversion rates.
5. Upload photos of your restaurant and food
It's interesting to note that 60% of consumers give more consideration to local results that have images.
Google My Business lets you add photos and 30-second videos. There are three types of images you can add:
Restaurant logo
Cover photo (appears at the top of your profile)
Additional photos of your restaurant exterior, interiors and dishes
Adding visuals to your profile is a great way to instil trust in customers and lure them into your restaurant. So, use photos and videos to tell a visual story and give people a glimpse into your restaurant before they decide to dine with you.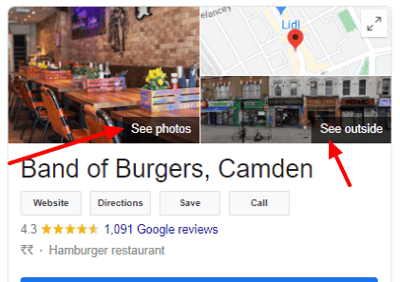 How to do this:
On your Google My Business dashboard, navigate to Photos.
6. Respond to customer reviews
Your business profile on Google is not a one-way communication tool. Your customers also have the option to leave a review, rate your restaurant, ask questions or share pictures of their experience.
In the restaurant industry, 93% of consumers look at reviews. This means you must encourage your customers to leave reviews as they serve as social proof and have the potential to attract new customers.
While collecting reviews is great, it's equally important to respond to those reviews (whether they're good or bad) on your business profile. It shows that you're listening and you care about their feedback.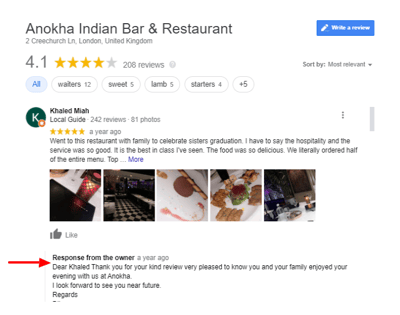 How to do this:
On your Google My Business dashboard, navigate to Reviews > Reply
7. Add an FAQ section
Another interesting Google My Business feature is the Question & Answers feature which lets users ask questions about your restaurant. These questions can be answered by business owners and customers.
While it's important to answer the questions you receive, another good tactic is to create your FAQ section here. How do you do that? Make a list of commonly asked questions and answer them yourself.
This serves as a quick and helpful guide for users looking for answers.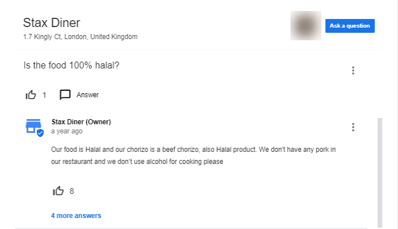 If you come across any inappropriate questions or answers, be sure to flag them immediately so that you can protect your brand reputation.
How to do this:
Head over to your restaurant's Google My Business listing, click on 'Ask a Question' and 'Answer'.
Final Thoughts
Look at your Business Profile on Google as a billboard advertisement — it needs to communicate the essentials, attract customers and convince them to dine with you.
It's advisable to download the Google My Business mobile app so that you can stay on top of your restaurant's online presence.
Don't stop at merely listing your restaurant – follow these seven profile optimisation steps to provide relevant information to customers and attract them to your restaurant.
We understand how busy restaurateurs are which is why when you sign up for Quandoo for Restaurants, you don't have to worry about adding a reservation link to your Google My Business listing.
We'll take care of it so your restaurant becomes directly bookable on Google.
Restaurant Marketing
Quandoo for Restaurants